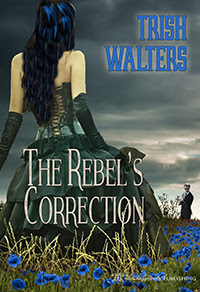 Rebellion is dangerous; you can't know where it's going to end or what damage it's going to do. Astraea is dangerous as well--dangerous to Cal Chesterfield's peace of mind. She's been a rebel for years, delving into things foreign to Cal's more conservative nature, but she appears to want to change. Unfortunately, she's been wayward so long, it's possible she can't learn to simply be herself.
Cal wants to change, too. He's too staid, too conventional, and he's been a failure at making relationships work. It is time for Cal to step out of the square box he's built for himself and try something different, someone different. Astraea is a perfect change of pace. But can Cal really change and loosen up? More importantly, can Astraea calm down and find a way to love herself so she can love another?
The Rebel's Correction is
available
exclusively on Amazon this weekend for a special, new release sale price of $2.99.
On Monday

, it will be available everywhere else (Blushing Books & Barnes & Noble)...but at the regular price of $4.99. Don't miss this chance to get this HOT new release for almost half-off!
Original post: BlushingBooks.booklikes.com/post/1276004/the-rebel-s-correction-by-trish-walters